Cats that throw up!
Location: United States
Registered: September 16, 2010
Posts:
85
Cats that throw up!
Cats normally throw up from time to time. It could be a hairball or even a "bug", like we humans get. It usually passes quickly and is nothing to worry about, but persistent vomiting should be checked out by a vet as it could be a symptom of underlying causes.
Smudge threw up today so i'm watching her!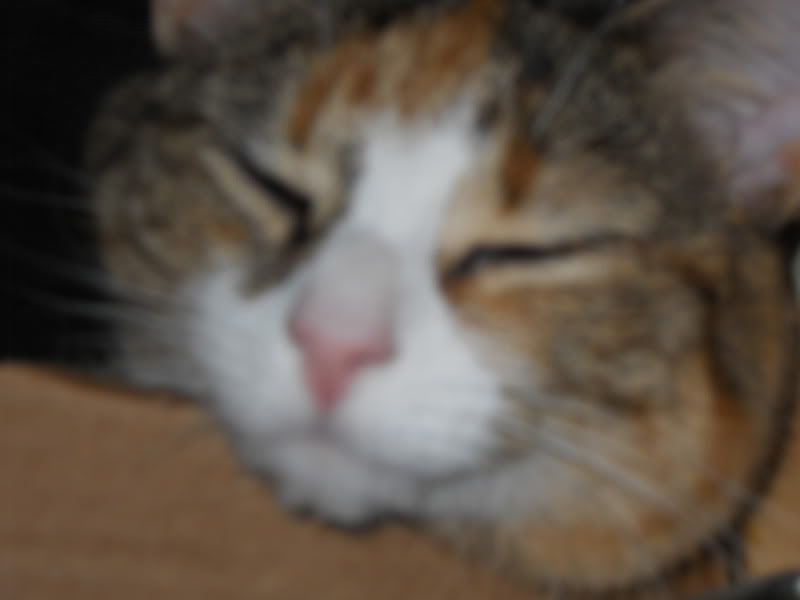 Last update on February 7, 6:40 pm by Dale Eggers.
Location: United States
Registered: January 21, 2011
Posts:
12
Everything gets blurry when I throw up too!
The following users say Thank You to
Mama
for this useful post:
Location: United States
Registered: April 1, 2011
Posts:
1
We bunnies can't throw up
Location: United States
Registered: April 1, 2011
Posts:
19
My zizter threwed up thiz afternoonz! Mommie doezn't likez it when her doz that, cuz her haz had zome problemz before and it makez Mommie nervouz. But her hadz juzt finished eatingz, zo Mommie zayz her probably juzt atez too fazt. I iz glad to zeez that there izn't anybodyz in the zick bay rightz now. I wantz everyonez to feel goodz!
Location: United States
Registered: December 1, 2010
Posts:
29
IAMS Proactive Hairball formula (round pellet dry food) can really help cats with sensitive stomachs who tend to throw up from hairball problems! It's best to keep some in a small bowl available as a supplement.
Last update on April 18, 3:16 am by Neil Corwin.
Location: United States
Registered: April 3, 2011
Posts:
1
Perla, I was always a pukey kitty from the time I came home as a little kitten, and last year I
finally
was diagnosed with IBD. It probably had been developing all along - it's a condition that exists on a spectrum and gradually gets worse.
For years we kept changing my diet to try to reduce my vomiting by eliminating known allergens such as corn, wheat, eggs and chicken. Sometimes the diet change helped for a little while, but eventually I would always go back to throwing up 4 or 5 times a week, sometimes even more frequently. Finally I got to the point where I was throwing up AND I had diarrhea every day - no fun at all. My new vet sent me to an internal medicine specialist, and that was when I got on the right track with a definitive IBD diagnosis. I started eating a limited-ingredient diet with an atypical protein source (rabbit and green pea formula from Royal Canin), and taking appropriate medication. I've been doing well (throwing up only once or twice a
month
now) for almost a year. The only problem I've had is, now that I'm keeping all my food down and digesting it properly I've put on quite a bit of weight!
Has your vet done an ultrasound to see what your digestive system looks like? Endoscopy is another procedure that could be helpful, but it would require light sedation, and a biopsy would require general anesthesia, so ultrasound is the least invasive diagnostic. It may be that simply eliminating a few ingredients that you are sensitive to could help settle your tummy, or you may need medication to reduce inflammation and settle things down. The meds I take are Prednisolone (prescription steroid) and Pepcid (over the counter antacid).
Hi PixieBelle!

Thanks for your suggestions. I took Pepcid. It worked for me for a while, but then it gradually stopped working. Mommy just bought me a bag of food for cats with sensitive tummies. I ate it right up! Mommy is hoping that might make me feel better.

I think mommy is hesitant about taking me to the vet again and having them find nothing in particular wrong.

Hmmm... Rabbit and green pea. Sounds interesting...

PixieBelle, I am sorry you went through so much, but so glad you're finally feeling better!

Purrs,
Perla
All times are GMT -5. The time now is 4:09 am.