Cookie...my pink nosed Princess...
Location: United States
Registered: September 16, 2010
Posts:
85
Cookie...my pink nosed Princess...
Oh Cookie.
How to i start this?
i met you in 2006 when you were 10.
i did not know that your former family didnt want you and put you outside not spayed...but you only had 1 baby that we ever saw. i dont think you were able to take care of them. But your daughter Oreo who was born with a birth defect (no right back foot) managed to give us a few babies...Lizzy and Oareo. So at least part of you is still here.
When we made you a member of our family i had you spayed but at age 10 i guess your fate was already sealed. You were open to Breast Cancer and thats what took you from me. CANCER. i hate CANCER.
When i felt a lump on your breast i took you to the vet and he thought if we were lucky it might just be a benign cyst but it wasnt, it was a very aggressive carsinoma. i wondered if,at age 18, you would even survive the major surgery but you did. You healed quickly and i was happy. Then on September 13, just 63 days after your surgery, you were struggling to breathe. We took you to the ER vet in the middle of that fateful night and i thought they would help you breathe better and we would soon be home all together again but sadly this was not to be.
We did an ultrasound on you and there was fluid in your lungs. You were drowning and suffering.
The doctor was very nice. He saw that Daddy was having trouble taking pictures- the last ones we would ever take of you- so he took my phone and took many beautiful and bittersweet pictures of you and me that i will cherish forever.
i really cherish the last few months we had together before i knew you were sick. You slept next to me on the couch every night with your paw upon my hand ever so gently just to ease my mind and let me know you were there with me. After the surgery you stopped doing that and spent most of your time in the closet because you need to rest, i thought.
It turned out you really were miserable for longer than i knew. The night we had to send you to the Bridge, you came to the Living Room and ate with the furmily... i didnt know it would be your last meal.
Then you stretched out on your blanket on the back of the couch and spent a few hours with us.
</a

Look how beautiful you looked that night. You dont even look sick... seven hours later you would be gone.
Your passing was peaceful. i held you and spoke many i love yous in your ear but never enough to tell you how much i love you.
Eight years was NOT enough time with you.
We all miss you and there is a hole in the house and in my heart where you took a piece of mine with you when you flew.
i will never ever forget you, my Cookie Noodle.

Love IS forever and Heaven has gained the best cat ever.
Good bye my love until the day we will be reunited.
Oh what a joyous day that will be.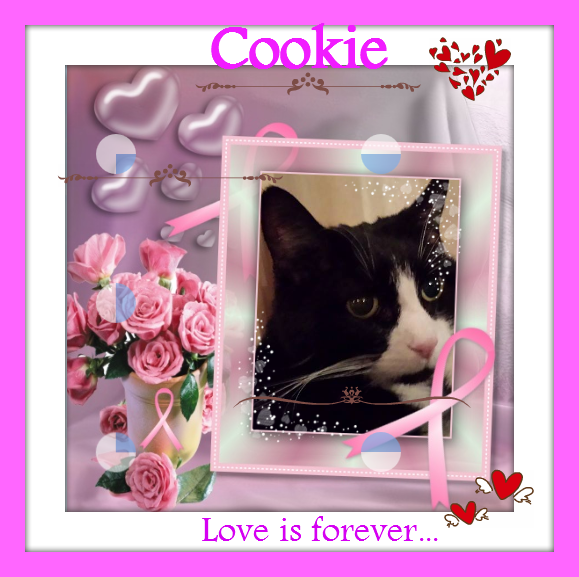 i will love you forever.
Love, Mom
Location: United States
Registered: January 20, 2014
Posts:
2330
I am so sorry you had to make your Rainbow Bridge journey Cookie. You were a beautiful companion to your mommy and now you are a beautiful angel watching over her. Sending purrs to your mom who is missing you so much.
Location: United States
Registered: January 17, 2014
Posts:
20
Mom and Dad, I am so very sorry that your Cookie has to make the trip to the Bridge. She sounds like a very brave and loving kitty.
Every day is a good day with a Bombay!
Location: United States
Registered: February 1, 2014
Posts:
1470
Dale my mommy & I are in tears.. feeling your pain.. Cookie knew love thanks to you.. & now she is watching over you from Kitty Heaven furever close by you.. Dale.. please remember.."It was not Good Bye.. just time apart for now..you will be together again"...Hugs & prayers... ♥♥
All times are GMT -5. The time now is 11:41 pm.