Angel Beaner, my clown kitty...gone too soon.
Location: United States
Registered: September 16, 2010
Posts:
85
Angel Beaner, my clown kitty...gone too soon.
It was just like most Friday nights. Dad and i usually go to eat at our favorite diner because they are open all night on the weekends so we dont have to worry about what time it is and i dont have to rush through my chores and then feed everybody. i cant enjoy my meal if i know all of you are at home waiting to eat,so we feed you first and then go out.
It was October 4 2013 but just turning to midnight when we finally left. We ate our dinner and came home.
Daddy came inside first and i was saying hello to Angel when Daddy said:"Oh look how cute Beaner looks... he's sleeping". i took one look at you but i knew you werent sleeping. You had made your journey to the Bridge in your favorite house in the cat tree.
i felt your little body and you were still a little warm so i grabbed you and gave you mouth to mouth and started CPR but it was too late...you were already gone n Spirit.
i drove to the ER vet because it was the middle of the night and a nice vet examined you to reassure me that it was just a fluke thing and you hadnt gotten into anything bad. You were just 5 years old and the picture of health.
You were never sick a day in your short life. The vet said it could have been a brain aneurysm or a heart attack or a stroke but all that didnt matter as i left the clinic alone.
You were mischeivious and sometimes a bad boy but i dont think you meant to be. i love you unconditionally and cant wait till its my turn to meet you at the Bridge. It will be a big reunion.
Rest in Peace, my Beanie Boy... love of my life.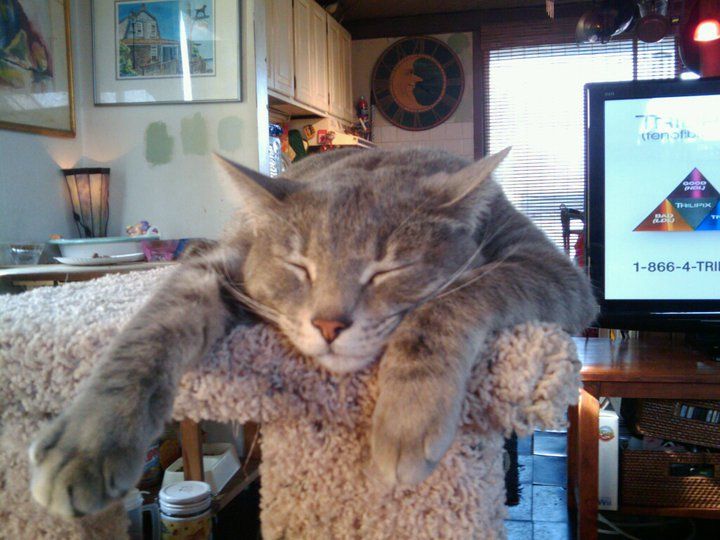 Things will never be the same without your silly antics.
It has been a year since you left, and 4 days, but its taken me this long to write this because of the pure shock of it all.
Your catmom Shadow and your catdad Stinky all miss you.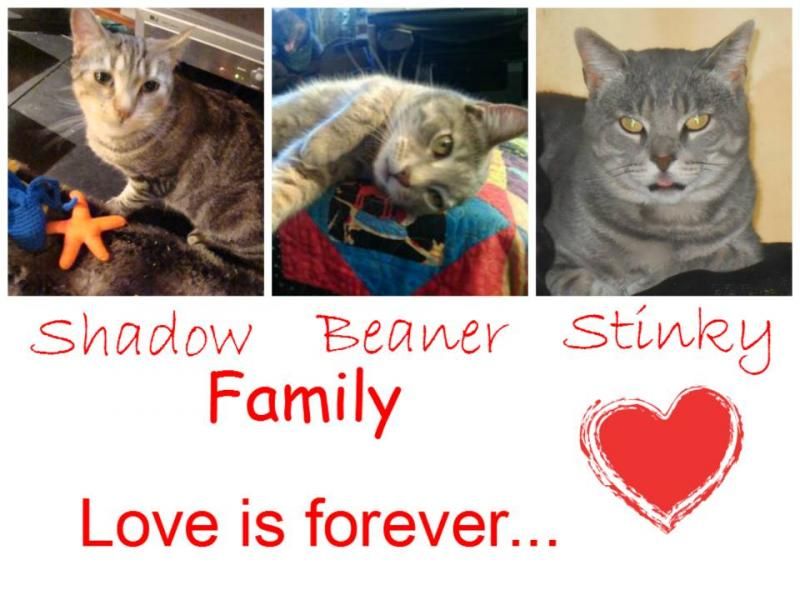 <

We all miss you Beaner and the shock of it all will never leave me. Why you? This i will never know and that hurts the most.
i know you are doing amazing Angel things at the Bridge and i cant wait to see you again someday. You will be the one waving the flag so i can find you.
i loved you here on Earth and i always will even if you cant be here anymore.
Happy 1st Anniversary at the Bridge Beanie Boy...
All my love forever and a day,
Mom
Location: United States
Registered: January 17, 2014
Posts:
20
So sorry to hear about Beaner going to the Bridge. My heart and prayers are with you and your dear family.
Every day is a good day with a Bombay!
All times are GMT -5. The time now is 11:21 pm.